Speaking engagements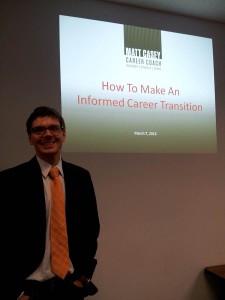 I have spoken to hundreds of professionals, students, and people in transition about thriving in a modern job market. My content is built for audiences who want practical advice about making big changes, navigating new market dynamics, building tools and brands that get noticed, and ultimately finding fulfillment in work and life.
Sample topics include:
"How to Make an Informed Career Transition"
"Networking Gets You Jobs"
"Career and Business Planning for a Modern Market"
"Personal Branding: Not Just for Everyone Else"
"Managing Up"
"What are Recruiters Thinking?"
"What's After the Resume? Practical Career Toolkit Development"
"Career Success Factors for Entrepreneurs'
Prior Speaking Engagements:
Sawyer Business School Graduate Orientation, Suffolk University, Boston, MA
ValleyWorks Career Center, Lawrence, MA
Acton Networkers, Acton, MA
Suffolk University Management Association (SUMA), Boston, MA
Boston University Gastronomy Program, Boston, MA
NET Impact @ Boston University, Boston, MA
Massachusetts General Hospital Post-Doc Association (MGPA), Boston, MA
CareInnovators Entrepreneur Forum, Cambridge, MA
If you are interested in booking me for your group, team, club, or company, please contact me at matt@mattcaseycoaching.com, (617) 480-7085, or by my contact page.