I am the objective voice, a career advocate supporting your future.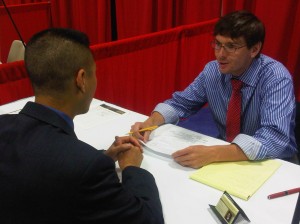 Working with people at all stages of their careers, I help them pursue new opportunities, grow in existing positions, manage challenging situations and make key professional decisions.
Here are some of the ways that I help my clients:
Career Transition Coaching
In-depth, hands-on, fully personalized programs designed to help you assess, prepare, and execute a career transition. Programs vary in duration and content, and can be customized.
Career Assessment and Discovery
Together, we uncover your key strengths, aspirations, skills and needs to best define your unique value proposition and to develop your career goals.
Job Identification and Selection
We collaborate to systematically capture, evaluate and select opportunities that best suit who you are and what you want.
Job Search Strategy
We work together to research, discover, and pursue your target organizations. This may include developing tactical plans, defining personal brand messaging and planning a networking strategy.
Job Transition Planning and Management
We focus on the skills and techniques needed to close on and begin a potential job, including interviewing, negotiation and on-boarding preparation.
Career Toolkit: Personal Branding and Online Profile Development
We develop and align your career documents to maximize your exposure and differentiate you from your competitors. Career toolkit options can include resumes and CVs, cover letters, thank you letters, LinkedIn profiles, presentation documents and personal branding statements
Resume Services: Consultation, Custom Content, Rewrite, Edit, Design.
A resume is a personal marketing tool, a snapshot of your best professional self. Successful, well-branded resumes that get noticed align five key elements: Format, Content, Messaging, Flow, and Searchability. We help you identify, capture and summarize key skills, craft problem-solution-results frameworks, improve aesthetics, and find the right tone for your audiences.
Sample services
Focused one-hour 1-on-1 strategy sessions; in-person, phone, or Skype
Access to all career assessments and relevant notes
Supervised homework and customized resources
Coaching, consulting, and feedback on career, toolkit, and personal brand topics
Email support for duration of the engagement
Access to professional and personal networks